The Strands and Screes Inn
Strands Brewery
With stunning views of the surrounding fells, The award-winning Strands Inn, Screes Inn & Strands Brewery all sit in the heart of Wasdale Valley. All rooms are en suite and traditional Cumbrian food is offered, along with cask ales brewed on the premises.
Rooms come with tea and coffee making facilities and free Wi-Fi is available throughout The Strands Hotel. Parking is also provided.
The Strands and Screes Inn were built in the 18th century and both retain many original features, with log fires and wooden beams throughout. Home-cooked food is on the menu and beer is brewed in the on-site micro-brewery.
The Strands and Screes Inn are perfectly positioned to explore the natural beauty of the Lake District National Parl. The deepest lake (Wastwater) and the mountain of Scafell Pike are both within walking distance
The Strands Inn & Micro Brewery welcomes everybody to their Friendly Public Houses with comfortable accommodation hosting rooms that consist of 6 doubles 1 twin 2 family rooms within one building whilst in the other, 'The Strands Accommodation', there are a further 2 singles 8 doubles 4 twins and can be accommodating to turn a couple of their rooms into family rooms.  They also serve a hearty full English breakfast each morning to start your perfect day in this beautiful part of Cumbria.
Our public bars serve all our own cask ales which are brewed in their Micro Brewery and also have a large selection of whiskeys and specialist gins that are ever-growing with their popularity.
Every year there is a celebration of  Cask Ales brewed in the Micro Brewery by hosting the renowned Beer Festival.  This showcases all the specialty Cask Ales and is held on the following weekend after the first May Bank Holiday each year.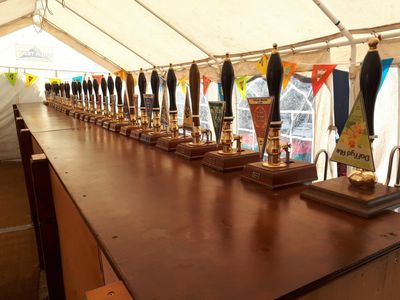 Food is served in several areas of the Strands Inn from 12 noon every day until 9 pm and on Sundays until 8 pm when, following this, a Free Fun Quiz Starts at 8:30 pm.
Dogs are welcome in the bars areas but unfortunately, they are not allowed to stay in any of the bedrooms.
Facilities
The Old Traditional Hotel now has 14 individually designed bedrooms (all with showers, 3 also have baths).
Situated conveniently in the centre of Nether Wasdale.
Free WiFi throughout the building.
Free parking.
Main bar with log fire, Snug area with open fire.
4 Areas for Dining Main Bar, Breakfast Room, Front Room & Stag Room.
Extensive menu choice using locally produced ingredients.
Vegetarian options on the menu.
Bottom Bar Games Room and Beer Garden.
We have Our Own Micro Brewery completed in 2007 brewing a selection of ales. We are now brewing over 34 different types over the year (at least six to choose from every day).
Ideal location for fine food and wine, beautiful scenery, walks to suit all abilities.
There is a shop about a 5-minute walk from here at the campsite (recently opened).
And most importantly a warm and caring atmosphere!
Mark & Lesley Corr

Inn & Brewery Owners
Mark and Lesley took ownership of The Strands Inn, in June 2006 and within the year established The Strands Microbrewery, with the aim to begin brewing craft ales exclusively for their inn.  Their first beer, a light hoppy amber ale called 'Errmmm…', is still served today and a firm favourite with most of the Nether Wasdale locals.
Where did the inspiration for the sudden move into the alchemy of beer brewing?
Mark, in his own words, got a little bored and thought he'd have a go.  This initial curiosity and plan to brew "just one beer", has now developed into a passion for brewing beers that range in styles from favourite session ales like Errmmm…, Green Bullet and Scafell Summit, to the strong yet delicious Strands' Russian Imperial Stout and Barley wine (an award winning ale). 
The whole process of producing our ale is now in the hands of our two full-time brewers Daniel (Head Brewer) and Dan (Assistant Brewer).  Together they produce anywhere from 240  to 4000  litres of beer per week depending on the time of year and beer style.  Thanks to their hard work,  we can all enjoy some stunning specialty beers at our very own Beer Festival in May and all the regular beers all year round, knowing that the beer we are all drinking was created less than 3m from the bar in The Strands Inn.